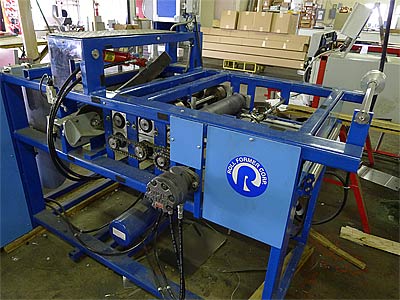 "We'll go to any length for your business" says it all. That's right, Viking Metal Products has the capabilities to fabricate commercial and residential gutters and downspouts in any length necessary. We've been known to turn out up to 70,000 feet of trim when needed. Our product line includes commercial and residential gutters, downspouts, accessories and specialty products many are custom made and in a variety of colors and sizes. Viking Metal Products can deliver in its truck or via common carrier anywhere in the United States, or our customers can pick up or prearrange delivery.
We're not boasting when we claim we can make just about any metal product your commercial and residential roofing projects require. Just give us a call and let's discuss what you need. If you can think it...we can make it. We can use any manufacturer's metal: i.e. Firestone Metal Products, McElroy Metal, Petersen Aluminum or PAC-Clad to fabricate your products. Flat sheets of Kynar steel are available too.
We've Grown to Serve You Better
In 2009 we moved into a brand new 31,680 square-foot facility that runs painted materials in 24-gauge steel and .032 and .040 aluminum. Our facility equipment includes:
Two Chicago Power Brakes, a Jorns CNC Brake and a Schechtl CNC Brake
13' Schechtl and 21' Jorns
A 2- x 3-inch Artos downspout machine, 3- x 4-inch Artos downspout machine, and 4- x 5-inch SMA downspout machine
A 5-inch and a 6-inch Artos gutter machine and 7-inch Gutter Maker K-Style gutter machine
A 6-inch K-Style and a 7-inch Jobsite box gutter machine
A 6-inch Jobsite half-round machine
A 6-inch half-round Ironman gutter machine
1 3/4" snap lock machine
Roll Former machine can cut down from a 24" width to whatever width needed
Norlok Cinch-Lock machine
Our Staff
Having superior metal fabrication capabilities is important in creating high-quality products. But it is our talented staff that makes Viking Metal Products different from our competition. Over 80% of the employees in our shop are former roofing professionals with years of hands-on roofing experience. Their expertise ensures that the products you need will look great and perform well. And when you contact our shop, be prepared to receive extraordinary service.
We Deliver!
We deliver any Viking Metal Products, including box gutters up to 45-feet long, anywhere in the United States on our trucks or via common carrier. Longer lengths as well as our other products are available for customer pick up or for customer prearranged delivery.